Jim Coughlin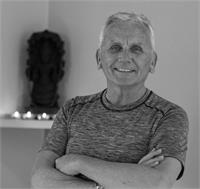 Jim was introduced to yoga in 1967 at the age of 10. He began practicing yoga in earnest in 1993. Jim has traveled to India extensively to expand his knowledge of yoga with his teacher H.S. Arun. Jim teaches yoga with a sense of humor and grounded in the fundamentals of the Yoga Sutra's of Patanjali, the Bhagavad Gita, and the teachings of B.K.S. Iyengar.
Jim was born in Buffalo, New York in 1957, and has lived in California since 1964. Jim's "other" career has been as an executive recruiter. He has managed and owned several staffing companies since 1989. He also has worked as a career counselor and outplacement consultant.
In 2005 Jim had the privilege of traveling to India several times over the next three years. It was during this time that he met his beloved teacher and friend Yoga Praveena H.S. Arun from Bangalore, India.
You will find Jim practicing at the studio at 6:00 a.m. every day except Sundays when he sleeps in and teaches the 8:30 a.m. class.
In addition to the above, Jim manages the business of the yoga studio, including building our online presence and community. If you have comments or suggestions as to how we could make this site better, please let Jim know.
Jim Coughlin instructs the following:



Practice along with one of our senior teachers. This class is for the student who wants to challenge himself or herself by experiencing the quiet-stillness that comes as a result of holding more challenging poses for longer periods of time. Inversions are an integral part of this practice. Get up and get the day going. This 6:00 a.m. class is a perfect way to stretch and wake up.




Main Focus of Intermediate Yoga

1) To assist the student in finding ease in all 65 poses in the Beginner/Intermediate syllabus.

(including building stamina and duration in all inverted poses).

2) To assist the student in developing and deepening his or her personal practice towards a daily practice (either at the studio – or at the student's home at his or her own pace and level.)

3) To add an additional 35 new poses to the student's repertoire.

Learn more about our Pose Syllabus here.Why is the emphasis on the Intermediate class towards building stamina and a daily yoga practice?

The physical benefits of yoga are many including: increased flexibility, strength, increased range of motion, vitality and more. Yet the main benefit that comes from practicing yoga is peace of mind. Students tell us how the bombardment of their "life's circumstances" haven't changed, yet they feel a new sense of peace and ease as they continue with the yoga practice. This is not a random phenomenon or coincidence, but rather a direct benefit and result of having the student work at all ends of his or her physical spectrum. Yoga is a practice of balancing and eliminating dualities. This balance only comes after time and sustained practice. Yoga is not a "quick-fix" – but rather must be practiced as a way of life – a lifestyle.

This is a deep and constant theme in the yogic literature. In Sanskrit the saying is: "Abhayasa Vairaghyabhyam Tannnirodah." This translates as: "The constant and sustained practice of detachment, over a long period of time, extinguishes the disturbances that prevent peace of mind."




Any and all new students to Yoga are welcome to attend. Classes focus on basic poses and conscious breathing techniques. Specific instruction is given on alignment and safety.The syllabus for the Beginner's Yoga classes refines and perfects all of the basic 30 poses that are covered in the Introduction to Yoga series. In addition, we begin to explore 20 new poses and combinations of poses. Learn more about our Pose Syllabus here. How long should I continue to go to just the Beginner's Yoga classes?Some people stay in the beginner's yoga classes for years. Moving onto a Beginner/Intermediate class isn't necessary or mandatory. The 50 poses and sequences covered in the Beginning Yoga program will set the foundation for a balanced and integrated life-long yoga practice for any student at any age. These 50 poses stretch, strengthen and tone all the muscles and joints in the body. They create balance and fine integration throughout the entire human being.What if I feel like I want to learn more or do more – is it safe to go into a Beginner/Intermediate class?If you have been practicing in our Beginner's Yoga classes 2-3 times a week, and you feel comfortable in 85% of the poses listed above (45 of 50 poses), then you are in a safe place to continue to the Beginner/Intermediate classes.




Build upon the basic standing and seated postures taught to beginning students. Intermediate classes can be more vigorous as they focus on building strength and stamina in the poses.

Learn more about our Pose Syllabus here.

What is covered in the Beginner/Intermediate Yoga classes?
All 50 poses in the Beginner's Yoga syllabus are frequently practiced within the Beginner/Intermediate classes. The main addition in the Beginner/Intermediate class is the introduction of Inversions in class.
What is an Inversion?
An Inversion is any pose where the head is below the heart. Theoretically, downward facing dog pose is an inversion. But when we speak of Inversions in relation to the Beginner/Intermediate class – we are mainly refer to these three poses: headstand (sirsasana), shoulderstand (sarvangasana) and handstand (adho mukha vrksasana).
Why are these poses so special and important?
Headstand (or Sirsasana) has been referred to as the "King" of all poses. Shoulderstand (or Sarvangasana) is referred to as the "Queen" or "Mother" of all poses. The benefits of these poses are many. The most immediately recognizable benefits are increased strength, balance, stamina, flexibility and vigor.
Isn't it dangerous to be on one's head or shoulders? It doesn't seem natural.
If you have specific concerns about your particular physical condition and limitations, please consult your physician. With proper preparation, support and guidance most of the inverted poses are safe. There are times when a person should NOT do inversions. It is recommended to NOT practice inversions when a woman is menstruating, if you have extremely high or low blood pressure, eye issues or neck issues. Again, please consult your physician if you have any concerns prior to beginning inversions.

Are those three poses the only difference from a Beginner's Yoga to a Beginner/Intermediate class?
Not quite! Not only do we begin to introduce the 3 inversions listed above. We also start introducing other combinations of inverted and more challenging poses, which are detailed here.
Is there anything else I should know about a Beginner/Intermediate class beside the emphasis on Inversions?
Yes! Poses are held for longer duration in Beginner/Intermediate class. Standing poses may be held for several minutes at a time. The purpose of extending duration in the poses is to find a deeper release, relaxation and strength while in the pose.
Also, the teacher will require the student to be in the pose with finer and finer precision and accuracy. The reason for this is we are trying to remove any resistance to finding complete ease and comfort in the pose while retaining firm strength and stamina. This principle is known in Sanskrit as "Sthira Sukham Asanam".
When would I be ready to move into the Intermediate Classes?
If you have been practicing at least 2-3 times a week, for a minimum of a year, and you can hold either Headstand (Sirsasana) or Shoulderstand (Sarvangasana) for 5 minutes without the support of the wall – AND – you can comfortably perform 80% of the 65 poses listed above (52 poses), then you are welcome to proceed to an Intermediate Class.