Kira Eggers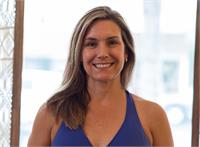 Kira began practicing prenatal yoga in 2000. In her years of practice, she has found strength, flexibility, mindfulness and joy. Kira is a 200hr Registered Yoga Teacher (RYT) with Yoga Alliance and has completed the Advanced Studies Program with Kate Coughlin, Director of Downtown Yoga, in Pleasanton, California. Kira has a sincere passion for Iyengar Yoga which focuses on classic postures with a deep awareness of correct alignment and precise actions in the body. Her personal experiences with back and joint pain have added a keen awareness of how integral each part of the body is in relation to another. Kira uses imagery well which adds quality and depth to her classes. She offers clear and detailed instruction in a strong and peaceful manner. Outside of the studio, she is a licensed interior design consultant, and enjoys spending time with her husband and two boys - especially skiing, swimming and scuba diving .
Kira Eggers instructs the following:
Any and all new students to Yoga are welcome to attend. Classes focus on basic poses and conscious breathing techniques. Specific instruction is given on alignment and safety.The syllabus for the Beginner's Yoga classes refines and perfects all of the basic 30 poses that are covered in the Introduction to Yoga series. In addition, we begin to explore 20 new poses and combinations of poses. Learn more about our Pose Syllabus here. How long should I continue to go to just the Beginner's Yoga classes?Some people stay in the beginner's yoga classes for years. Moving onto a Beginner/Intermediate class isn't necessary or mandatory. The 50 poses and sequences covered in the Beginning Yoga program will set the foundation for a balanced and integrated life-long yoga practice for any student at any age. These 50 poses stretch, strengthen and tone all the muscles and joints in the body. They create balance and fine integration throughout the entire human being.What if I feel like I want to learn more or do more – is it safe to go into a Beginner/Intermediate class?If you have been practicing in our Beginner's Yoga classes 2-3 times a week, and you feel comfortable in 85% of the poses listed above (45 of 50 poses), then you are in a safe place to continue to the Beginner/Intermediate classes.