Lori Pirri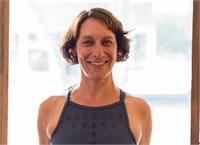 Lori Pirri has been a student of yoga her whole life, her mom is a Sivananda yoga teacher, but she discovered her own yoga passion in her early 20s while seeking a way to connect to her own breath and stillness. She realized not only her own joy but the joy of practicing with and supporting others. She is always learning from her amazing teachers, and loves to explore new postures on and off the yoga mat finding inspiration is nature, friends, family and other students. She currently teaches at Downtown Yoga, and Tri-City Physical Therapy through the
Samasta Wellness
program. Lori brings a cheerful and enthusiastic energy to her classes that blend alignment, strength, therapeutics and her own life experiences.
Lori Pirri instructs the following:



Main Focus of Intermediate Yoga

1) To assist the student in finding ease in all 65 poses in the Beginner/Intermediate syllabus.

(including building stamina and duration in all inverted poses).

2) To assist the student in developing and deepening his or her personal practice towards a daily practice (either at the studio – or at the student's home at his or her own pace and level.)

3) To add an additional 35 new poses to the student's repertoire.

Learn more about our Pose Syllabus here.Why is the emphasis on the Intermediate class towards building stamina and a daily yoga practice?

The physical benefits of yoga are many including: increased flexibility, strength, increased range of motion, vitality and more. Yet the main benefit that comes from practicing yoga is peace of mind. Students tell us how the bombardment of their "life's circumstances" haven't changed, yet they feel a new sense of peace and ease as they continue with the yoga practice. This is not a random phenomenon or coincidence, but rather a direct benefit and result of having the student work at all ends of his or her physical spectrum. Yoga is a practice of balancing and eliminating dualities. This balance only comes after time and sustained practice. Yoga is not a "quick-fix" – but rather must be practiced as a way of life – a lifestyle.

This is a deep and constant theme in the yogic literature. In Sanskrit the saying is: "Abhayasa Vairaghyabhyam Tannnirodah." This translates as: "The constant and sustained practice of detachment, over a long period of time, extinguishes the disturbances that prevent peace of mind."




Build upon the basic standing and seated postures taught to beginning students. Intermediate classes can be more vigorous as they focus on building strength and stamina in the poses.

Learn more about our Pose Syllabus here.

What is covered in the Beginner/Intermediate Yoga classes?
All 50 poses in the Beginner's Yoga syllabus are frequently practiced within the Beginner/Intermediate classes. The main addition in the Beginner/Intermediate class is the introduction of Inversions in class.
What is an Inversion?
An Inversion is any pose where the head is below the heart. Theoretically, downward facing dog pose is an inversion. But when we speak of Inversions in relation to the Beginner/Intermediate class – we are mainly refer to these three poses: headstand (sirsasana), shoulderstand (sarvangasana) and handstand (adho mukha vrksasana).
Why are these poses so special and important?
Headstand (or Sirsasana) has been referred to as the "King" of all poses. Shoulderstand (or Sarvangasana) is referred to as the "Queen" or "Mother" of all poses. The benefits of these poses are many. The most immediately recognizable benefits are increased strength, balance, stamina, flexibility and vigor.
Isn't it dangerous to be on one's head or shoulders? It doesn't seem natural.
If you have specific concerns about your particular physical condition and limitations, please consult your physician. With proper preparation, support and guidance most of the inverted poses are safe. There are times when a person should NOT do inversions. It is recommended to NOT practice inversions when a woman is menstruating, if you have extremely high or low blood pressure, eye issues or neck issues. Again, please consult your physician if you have any concerns prior to beginning inversions.

Are those three poses the only difference from a Beginner's Yoga to a Beginner/Intermediate class?
Not quite! Not only do we begin to introduce the 3 inversions listed above. We also start introducing other combinations of inverted and more challenging poses, which are detailed here.
Is there anything else I should know about a Beginner/Intermediate class beside the emphasis on Inversions?
Yes! Poses are held for longer duration in Beginner/Intermediate class. Standing poses may be held for several minutes at a time. The purpose of extending duration in the poses is to find a deeper release, relaxation and strength while in the pose.
Also, the teacher will require the student to be in the pose with finer and finer precision and accuracy. The reason for this is we are trying to remove any resistance to finding complete ease and comfort in the pose while retaining firm strength and stamina. This principle is known in Sanskrit as "Sthira Sukham Asanam".
When would I be ready to move into the Intermediate Classes?
If you have been practicing at least 2-3 times a week, for a minimum of a year, and you can hold either Headstand (Sirsasana) or Shoulderstand (Sarvangasana) for 5 minutes without the support of the wall – AND – you can comfortably perform 80% of the 65 poses listed above (52 poses), then you are welcome to proceed to an Intermediate Class.