Jessica Sinclair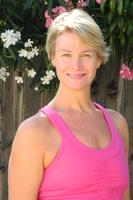 Jessica began practicing yoga 17 years ago after the birth of her first child. Her love of practicing yoga blossomed over the years and led to her becoming a certified yoga teacher through Downtown Yoga's 200 – hour Advanced Yoga Studies Program under the guidance of Kate Coughlin.
Jessica believes that practicing yoga on a daily basis not only calms the mind and keeps you present but also aids our bodies with strength and flexibility, helping to avoid injury. She teaches with certainty and safe instruction, allowing her students to feel each pose as they move through their practice. Jessica has practiced Vinyassa, Ashtanga and Yin yoga over the years but is extremely inspired by alignment based yoga such as Iyengar.
Jessica has always lived a very active and healthy lifestyle. She has trained and competed in several triathlons, half marathons and countless swim meets and open water long distance swims. Outside of sport she also enjoys quality time with her husband and two teenagers and loves to cook healthy meals.
Have a look at Jessica's yoga blog as she continues to evolve through her practice of yoga. paradiseyoga.me
Jessica Sinclair is currently not instructing any classes.