Laura Volsansky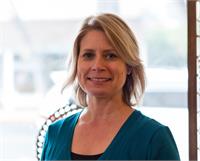 In 2011, Laura started on her path of yoga at the prompting of a physical therapist while working through a sports injury. She was intrigued that many exercises prescribed to heal sport injuries are actual yoga poses. She began her study at Downtown Yoga in Pleasanton under the guidance of director, Kate Coughlin and Jim Coughlin. In 2015, Laura completed the 200 hour Advanced Yoga Studies Program in accordance with the Yoga Alliance.
Laura had the unique opportunity to study yoga in Bangalore, India in 2012 and 2014 with H.S. Arun of Prashant Yogashraya. On her first trip to India, she was thrilled to see B.K.S. Iyengar in person and his teachings remain her source of inspiration. Laura places a focus on relieving daily stresses, finding ways to calm the mind and renew the spirit. Her Iyengar-based yoga instruction includes props to make the practice of yoga all-inclusive and enjoyed by any person, body type or fitness level.
When Laura is not in the office or in the yoga studio, she enjoys the zen of riding her motorcycle and volunteering with her dog in a children's reading program.
Laura Volsansky instructs the following:



Any and all new students to Yoga are welcome to attend. Classes focus on basic poses and conscious breathing techniques. Specific instruction is given on alignment and safety.The syllabus for the Beginner's Yoga classes refines and perfects all of the basic 30 poses that are covered in the Introduction to Yoga series. In addition, we begin to explore 20 new poses and combinations of poses. Learn more about our Pose Syllabus here. How long should I continue to go to just the Beginner's Yoga classes?Some people stay in the beginner's yoga classes for years. Moving onto a Beginner/Intermediate class isn't necessary or mandatory. The 50 poses and sequences covered in the Beginning Yoga program will set the foundation for a balanced and integrated life-long yoga practice for any student at any age. These 50 poses stretch, strengthen and tone all the muscles and joints in the body. They create balance and fine integration throughout the entire human being.What if I feel like I want to learn more or do more – is it safe to go into a Beginner/Intermediate class?If you have been practicing in our Beginner's Yoga classes 2-3 times a week, and you feel comfortable in 85% of the poses listed above (45 of 50 poses), then you are in a safe place to continue to the Beginner/Intermediate classes.