Himani Limaye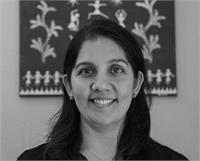 Himani Limaye has completed 300+ hours and 200+ hours of Advanced Studies Program under the able guidance of Kate Coughlin and Jim Coughlin, as required by the Yoga Alliance of US to become a 500 hr Registered Yoga Teacher.
Himani is very much drawn to the Iyengar style of teaching which focuses on alignment. She strongly believes in this quote by BKS Iyengar. "An asana is not a posture which you assume mechanically. It involves thought, at the end of which a balance is achieved between movement and resistance."
She feels that there is more to yoga than just practicing it physically. Yoga is not just a workout. One has to feel it to really know what yoga means. Himani also believes in the spiritual aspect of yoga. We are so much more than what meets the physical eye.
Himani Limaye instructs the following:
A healing practice of supportive and restorative poses, which relieve tension and stress throughout the body. Beginners welcome!