Satya Vaidyanathan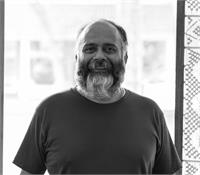 Satya is a disciplined yoga practitioner, marathoner, running coach, and a musician. A former technology executive in the Silicon Valley, Satya is a teacher at his core. A graduate of Advanced Studies Program at Downtown Yoga, Satya credits his gurus – Kate & Jim Coughlin, for being the driving force for his passion for practice, and the joy of teaching and sharing. He is passionate about introducing and teaching Yoga to beginners and sharing in their journeys and celebrating their "aha" moments. Satya is a joyful and engaging yoga practitioner and teacher.
Satya Vaidyanathan instructs the following:
All Levels class at noon. 75-minute class.