Georganne Benesch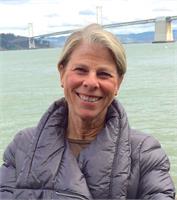 Yoga became an integral part of Georganne's life from the moment she first stepped on a mat. Like many, Georganne tried out Yoga to help recover from an illness. The first day she walked into the DTY studio, Georganne felt at home. She loves how a consistent Yoga practice has helped her achieve more strength and balance in her life – physically, mentally & spiritually. Motivated to share her practice, Georganne graduated from the Downtown Yoga 200-hour Advanced Studies Program and soon became a DTY teacher. In her classes, she offers supportive instruction that encourages each and every student to find energy, ease and enjoyment in their practice. Georganne built a career in high-tech marketing and runs her own consulting business; Tiger Team Marketing. She delights in balancing her professional work with practicing and teaching Yoga.
Georganne Benesch instructs the following:
Any and all new students to Yoga are welcome to attend. Classes focus on basic poses and conscious breathing techniques. Specific instruction is given on alignment and safety.The syllabus for the Beginner's Yoga classes refines and perfects all of the basic 30 poses that are covered in the Introduction to Yoga series. In addition, we begin to explore 20 new poses and combinations of poses. Learn more about our Pose Syllabus here. How long should I continue to go to just the Beginner's Yoga classes?Some people stay in the beginner's yoga classes for years. Moving onto a Beginner/Intermediate class isn't necessary or mandatory. The 50 poses and sequences covered in the Beginning Yoga program will set the foundation for a balanced and integrated life-long yoga practice for any student at any age. These 50 poses stretch, strengthen and tone all the muscles and joints in the body. They create balance and fine integration throughout the entire human being.What if I feel like I want to learn more or do more – is it safe to go into a Beginner/Intermediate class?If you have been practicing in our Beginner's Yoga classes 2-3 times a week, and you feel comfortable in 85% of the poses listed above (45 of 50 poses), then you are in a safe place to continue to the Beginner/Intermediate classes.




Gentle yoga is a Beginner's Yoga class taught in the most gentle of styles. This is a great first class for someone brand-new to yoga or getting back into yoga after a long absence.