Linda Lamson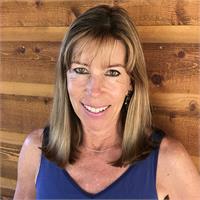 Linda loves bringing her knowledge of anatomy and kinesiology to the mat. She is a licensed Physical Therapist with expertise in the evaluation and treatment of musculoskeletal problems. She has been practicing yoga for over 15 years and is a 500 hour Registered Yoga Teacher having completed the 200/300 hour Advanced Studies Program under the direction of Kate Coughlin at Downtown Yoga in Pleasanton, CA. Linda has also spent over 100 hours studying with Tias Little and the Prajna Yoga faculty in Santa Fe, NM. Linda has a committed sitting meditation practice and has been guiding meditation classes for more than a decade. She has studied with many spiritual teachers including His Holiness the Dalai Lama, Thich Nhat Hanh, Pema Chodron, and Jack Kornfield. Linda has taken her formal Bodhisattva Vows and is committed to helping others awaken to the present moment. In her classes, she is devoted to creating a sacred space in which to cultivate harmony of mind, body and spirit.
Linda Lamson instructs the following:
Any and all new students to Yoga are welcome to attend. Classes focus on basic poses and conscious breathing techniques. Specific instruction is given on alignment and safety.The syllabus for the Beginner's Yoga classes refines and perfects all of the basic 30 poses that are covered in the Introduction to Yoga series. In addition, we begin to explore 20 new poses and combinations of poses. Learn more about our Pose Syllabus here. How long should I continue to go to just the Beginner's Yoga classes?Some people stay in the beginner's yoga classes for years. Moving onto a Beginner/Intermediate class isn't necessary or mandatory. The 50 poses and sequences covered in the Beginning Yoga program will set the foundation for a balanced and integrated life-long yoga practice for any student at any age. These 50 poses stretch, strengthen and tone all the muscles and joints in the body. They create balance and fine integration throughout the entire human being.What if I feel like I want to learn more or do more – is it safe to go into a Beginner/Intermediate class?If you have been practicing in our Beginner's Yoga classes 2-3 times a week, and you feel comfortable in 85% of the poses listed above (45 of 50 poses), then you are in a safe place to continue to the Beginner/Intermediate classes.