Dagmar Landel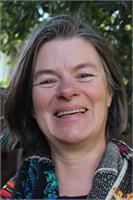 As a practicing psychologist in Vienna, Austria, Dagmar Emperger-Landel found a deep interest in the body-mind balance. Moving to Encinitas, California in 1998, Dagmar practiced both yoga and seated mediation, and studied in the Viniyoga tradition which emphasizes watching the mind and opening the heart during practice for a full experience of awareness and stillness. Dagmar received her Advanced Studies Program Certificate from Downtown Yoga in Pleasanton with an Iyengar-oriented approach that focuses on correct body alignment, using props like blocks and straps to allow all practitioners access to the benefits of the postures regardless of physical condition, age, or experience. Dagmar encourages her students to explore awareness, being present and connected with their bodies to balance life and relieve stress. When not engaging in yoga and meditation, Dagmar enjoys outdoors activities including hiking and surfing, working with her hands creating beautiful things, and traveling with her two teenage daughters, husband and spirited dog Kai.
Dagmar Landel instructs the following:
All Levels class at noon. 75-minute class.