Vidya Rangachari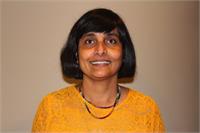 Vidya Rangachari turned to Iyengar Yoga in 2012 in order to get relief from back pain brought on by scoliosis. When Vidya noticed that yoga offered her the potential of healing herself holistically without taking recourse to pain medication, she began the 200-hr Advanced Studies program offered by Downtown Yoga in Pleasanton, CA. She became a proud graduate of the program in 2013. In keeping with her dream to help others with back-related challenges coupled with a sincere desire to pay it forward, she started teaching yoga in November 2016. Along with the 200-hour teacher training program, Vidya has also successfully completed a Back Care certificate program and a Restorative Yoga program from Downtown Yoga. Vidya is a trained English as a Second Language teacher with Master's degrees in Applied Linguistics and American Literature. In her spare time, she loves to read, hang out with her husband and kids, and go on long doggie walks with her 7 year old golden retriever.
Vidya Rangachari instructs the following:
A healing practice of supportive and restorative poses, which relieve tension and stress throughout the body. Beginners welcome!