Intermediate/Advanced
This class is taught by: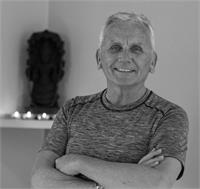 Jim was introduced to yoga in 1967 at the age of 10. He began practicing yoga in earnest in 1993. Jim has traveled to India extensively to expand his knowledge of yoga with his teacher H.S. Arun. Jim teaches yoga with a sense of humor and grounded in the fundamentals of the Yoga Sutra's of Patanjali, the Bhagavad Gita, and the teachings of B.K.S. Iyengar.
Jim was born in Buffalo, New York in 1957, and has lived in California since 1964. Jim's "other" career has been as an executive recruiter. He has managed and owned several staffing companies since 1989. He also has worked as a career counselor and outplacement consultant.
In 2005 Jim had the privilege of traveling to India several times over the next three years. It was during this time that he met his beloved teacher and friend Yoga Praveena H.S. Arun from Bangalore, India.
You will find Jim practicing at the studio at 6:00 a.m. every day except Sundays when he sleeps in and teaches the 8:30 a.m. class.
In addition to the above, Jim manages the business of the yoga studio, including building our online presence and community. If you have comments or suggestions as to how we could make this site better, please let Jim know.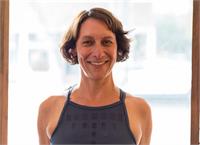 Lori Pirri has been a student of yoga her whole life, her mom is a Sivananda yoga teacher, but she discovered her own yoga passion in her early 20s while seeking a way to connect to her own breath and stillness. She realized not only her own joy but the joy of practicing with and supporting others. She is always learning from her amazing teachers, and loves to explore new postures on and off the yoga mat finding inspiration is nature, friends, family and other students. She currently teaches at Downtown Yoga, and Tri-City Physical Therapy through the
Samasta Wellness
program. Lori brings a cheerful and enthusiastic energy to her classes that blend alignment, strength, therapeutics and her own life experiences.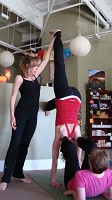 Main Focus of Intermediate Yoga
1) To assist the student in finding ease in all 65 poses in the Beginner/Intermediate syllabus.
(including building stamina and duration in all inverted poses).
2) To assist the student in developing and deepening his or her personal practice towards a daily practice (either at the studio – or at the student's home at his or her own pace and level.)
3) To add an additional 35 new poses to the student's repertoire.
Learn more about our Pose Syllabus here.
Why is the emphasis on the Intermediate class towards building stamina and a daily yoga practice?
The physical benefits of yoga are many including: increased flexibility, strength, increased range of motion, vitality and more. Yet the main benefit that comes from practicing yoga is peace of mind. Students tell us how the bombardment of their "life's circumstances" haven't changed, yet they feel a new sense of peace and ease as they continue with the yoga practice. This is not a random phenomenon or coincidence, but rather a direct benefit and result of having the student work at all ends of his or her physical spectrum. Yoga is a practice of balancing and eliminating dualities. This balance only comes after time and sustained practice. Yoga is not a "quick-fix" – but rather must be practiced as a way of life – a lifestyle.
This is a deep and constant theme in the yogic literature. In Sanskrit the saying is: "Abhayasa Vairaghyabhyam Tannnirodah." This translates as: "The constant and sustained practice of detachment, over a long period of time, extinguishes the disturbances that prevent peace of mind."
Upcoming classes: